The Right Measures to Take after Experiencing Mold Damage in Mt Airy
6/11/2018 (Permalink)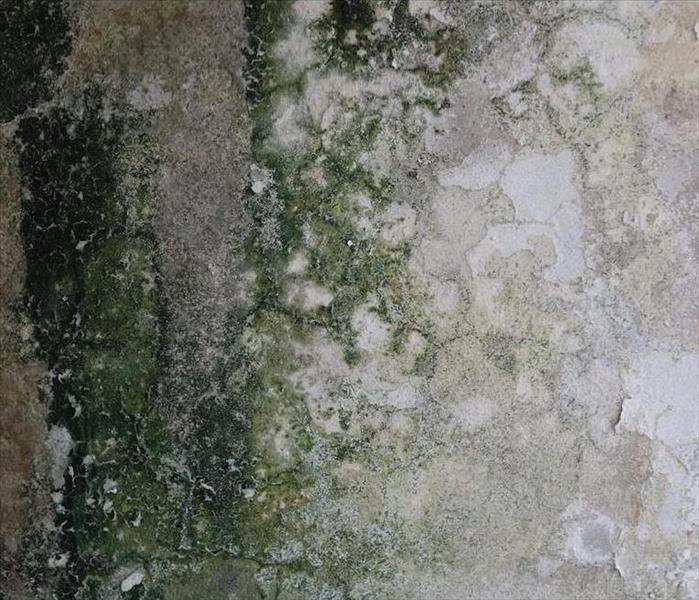 Quick action on your part by calling SERVPRO at the first sight or smell of mold can contain the infestation and offer efficient remediation services.
Team SERVPRO Contains the Mold Infestation in Your Home Before Finding the Cause and Remediating the Damage
Continuous exposure to indoor mold damage may lead to health effects, and that is why there are some service providers out there that can help with cleanup or remediation of mold. As long as oxygen and moisture are present, mold can grow on any organic substance. That is why we advise residents of Mt Airy to act whenever they discover any moisture accumulation in their homes.

While our SERVPRO technicians can control indoor mold damage incidents in Mt Airy, it is not possible to eliminate all mold spores that exist in our buildings. It is hard to see the spores without any magnification, and that means they are so light and can continually move through the outdoor and indoor environment. The moment they land on damp materials, they start to grow and in the process digest surfaces as a means of surviving.

Identifying the mold is one of the tasks that or SERVPRO technicians do while at the site. We start by doing a visual inspection and look for mold growth in contents that contain cellulose such as wood products, gypsum boards, studs and ceiling tiles. Basements, attics, and crawl spaces are prone to mold attacks and while at those places we check whether there is some discoloration on the walls and any present of a musty smell. With the use of moisture sensors and meters, we can detect any hidden moisture intrusion.

Once our SERVPRO technicians detect a mold problem, some of the corrective actions we take include: identifying and stopping the moisture sources, cleaning or removing materials with the mold contamination, removing the mold and thoroughly drying the area before any construction or renovation work starts. Before any mold remediation processes begin, our technicians put in place containment measures. These actions help in establishing an airlock region between the contaminated area, and the uncontaminated area. For instance, by using exhaust fans, we can create a negative pressure that prevents the spread of the spores.

SERVPRO of Manayunk is an industry leader in commercial and residential mold remediation and cleaning services. Call us at (215) 482-0800 when you need to work with highly trained and dedicated restoration technicians.

Click here for more about Mt Airy.